Spa Touch Dentistry in Apopka
When it comes to dental health care, it is important for our patients to feel comfortable and relaxed at our office.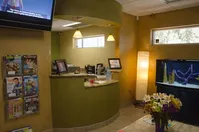 Just like you would go to a spa to feel better, we want you to feel the same at Spa Touch Dentistry. Our dental office maintains a spa atmosphere so you can receive the treatment you need while relaxing.
As Dr. Mark Halek has said, "Even with all of the high tech equipment in my practice today, I place the highest importance on compassionate care and the human touch."
A dental office can offer the most high-tech and updated equipment, but they don't always offer the compassionate care we do. At Spa Touch Dentistry, we offer a relaxing experience with a spa cleaning that is offered to any of our loyal patients. During your dental cleaning, we offer a warm eye wrap that covers and soothes your eyes and your mind, while Dr. Halek provides your cleaning.
Our dental chairs even offer you a massage along your back so you can relax and forget about your worries while you get your teeth cleaned. You can also enjoy soft music and essential oils to expand on your comfort—you will forget you are even at the dentist!
Even when you are waiting for Dr. Halek to come into the room, we have an added benefit for you: an extra oral exam. This exam is provided through "gentle touch therapy" at no extra charge. Similar to a mini facial massage, it is the best way to end your appointment as you continue your daily tasks.
Leave our dental office with a fresh clean smile, and a relaxed being with Spa Touch Dentistry in Apopka. It is our goal to keep you smiling for a lifetime, while also ensuring your overall well-being.